While sewing the make-up remover wipes and their bag, I used some Odicoat.
It's some kind of glue/gel that adds a waterproof layer to any kind of cotton fabric.
It won't transform your wonderful Liberty fabric into a real waterproof fabric meant for a raincoat, but it will prevent water/liquids/stains from reaching the core of the fabric. Very useful for your wipe bag when it's on the side of the washbasin.
I used Odicoat for 2 of my bags and also for the wipes' washing bag ( tutorial to be published SOOOON *teaser*!)
What you need



 Odicoat + something to apply it (brush or the card provided with Odicoat)
Some cotton fabric
Plastic sheets to protect your table
How to apply Odicoat
Place your fabric right side up on the plastic sheet.
Put a small dose of Odicoat and use the card to spread it evenly onto the surface.
If your fabric frays a lot, take care not to catch any thread into the glu.
Good, but, how can I sew it???
With only one layer of Odicoat, I didn't notice a difference. I used a 80/90 universal needle and normal pressure foot.
Things changed a bit with 2+ layers. I put the walking foot on my Janome Jubilee because the 2 layers of fabric were stitcking to each other.
Topstitching was done with a Teflon foot to limit the stitcking
In case you don't have access to a walking foot or a Teflon foot, you can easily use some pattern paper.
So what? Will I ever use Odicoat again?
Odicoat is sold at 14.99 euros on Mondial Tissus (this shop provided it to me free of charge).
It contains 250ml of glu and you don't need a lot to cover your fabric. I found it very easy to apply and quick to dry, even after 2 other layers.
I now want to apply it on  a lot of projects!!
Have you ever used some kind of glu-gel? Give me some ideas for future projects using oil cloth!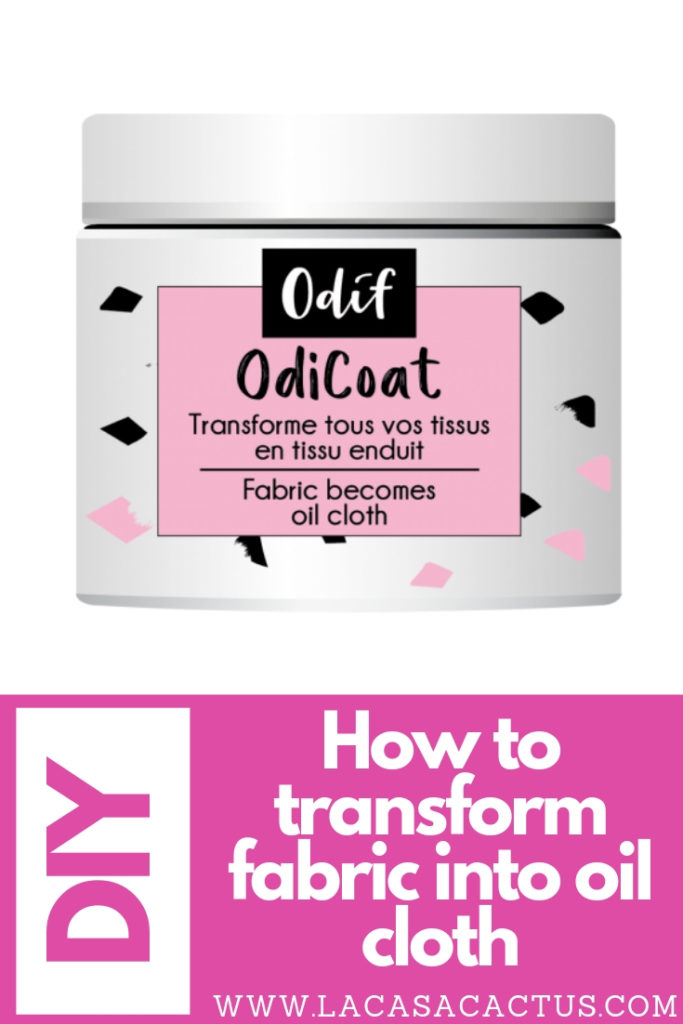 This article may contain affiliate links.