*This article may contain affiliate links.
"I love it when a plan comes together" was the main character's line in an 80's TV show I adored. Knowing that his plans always underwent serious changes on the way!
Well, sewing is like that: you may start with a project in mind and then…you end up with something 'rather' different.
That's what happened with this project.
Rosie, landgirl dungarees
I was deep in love with this vintage pattern. So my college son gifted it to me.
A vintage pattern that has been digitized was what  I needed. It offered multiple sizes and seemed decent.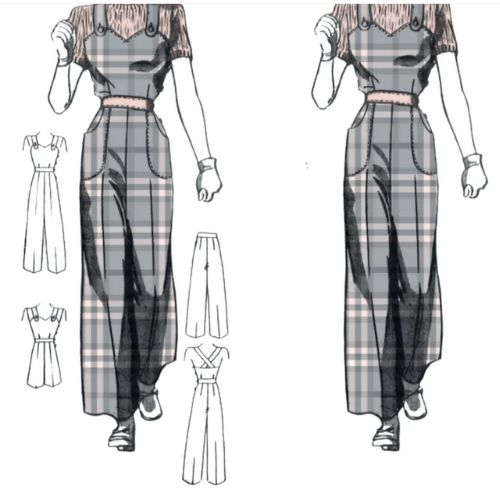 I loved the sweetheart neckline and the wide straps.
The bust was shaped by 2 sets of darts at the front and one set at the back, making the bodice rather fitted.

That was what was expected…
When things went wrong
Muslining
Because it was anew-to-me pattern AND a vintage shpae, I cut a muslin (well…3, actually).
Assembling the PDF was rather 'meh': not enough assembling lines or squares (which is a bit stressful for the vintage coat I also was gifted, with its 70 pages to tape)
I checked the size chart and found I needed to blend a size 8 for the bust with a size 14 for waist and hips.
Once I put the muslin on, I was: "Oh no….nothing's good AT ALL!!!":
Waist was way too high (on my ribcage)

Both sets of darts were too long and totally off my apex

Too wide legs (I could have put 2 legs in one)

Baggy crotch
Well, I'm not easily defeated and it wasn't the first pattern that needed alterations.
Alterations #1
I used Made to Sew's videos I wrote about here to adjust the bust.

I also lengthned the bodice and shortened the crotch.
Muslin #2 was a big fail as well. The pants part was terrible, I looked like a clown.

Alterations #2
Bodice being not bad, I chose to sew a size 8 for the pants.
Well…it wasn't great either.
Last chance for the jumpsuit
I was fed up with this pattern, I had no idea how to alter the pants part, but I loved the bodice.
I decided to add a skirt to the bodice instead of pants!
A preppy look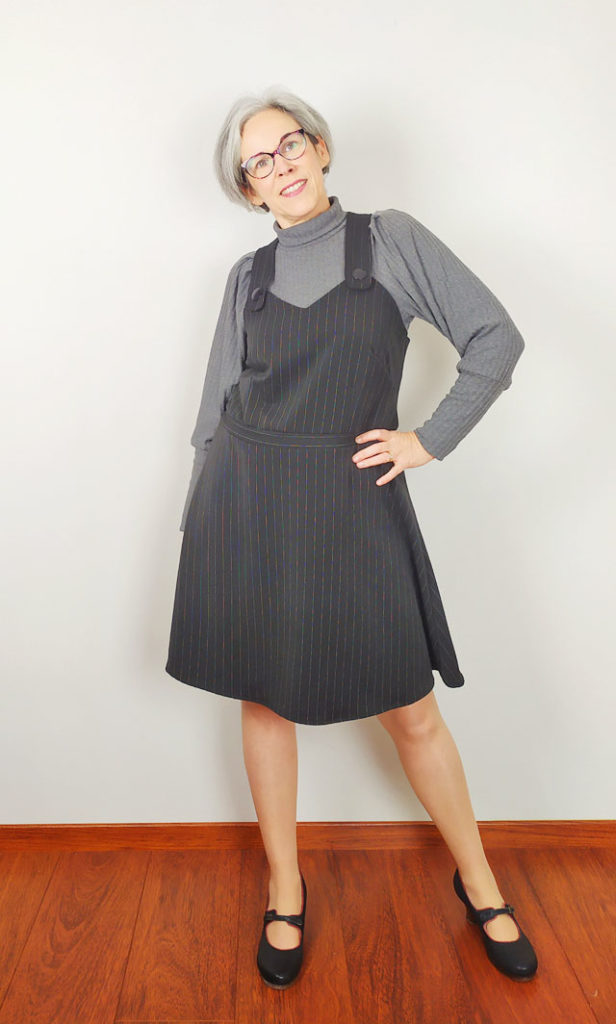 The skirt has been drawn thanks to By Hand London's skirt generator. it's a mix between a half and a quarter circle skirt.
I slimmed the waistband a bit and played with the stripes.

I also fully lined the bodice instead of binding it as instructed (it was probably to save fabric at that time -1940's-). I understitched the lining to the main.
My fabric* being a stretch gabardine, I didn't need any type of closure.
I chose to do a narrow hem on the skirt.
This is how I proceed, even if I have narrow hem feet on my Janome 6700P (I don't like these feet because I probably don't know how to use them properly!):
Serge/overcast the raw edge (don't stretch it)

Fold the edge twice on the wrong side, enclosing the serged edge. Proceed 2 inches by 2 inches, do not pin. Steam well (you can put under a clapper if need be).
In the end, I don't like it at all. It's not flattering on me. See the back?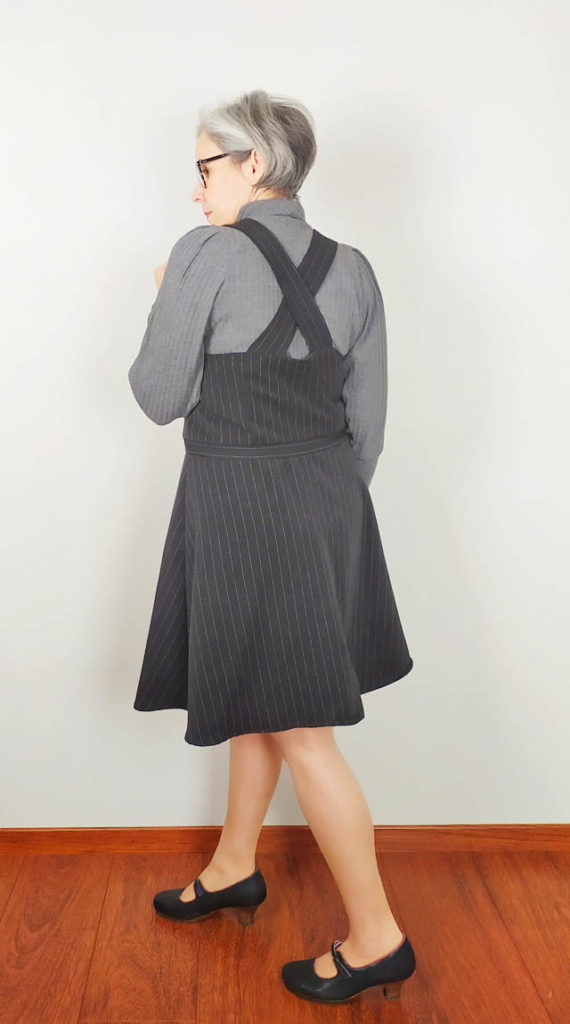 I'd love to find a jumpsuit/ jumper dress that fits because I like them, but I always end up with garments that really enlarge my middle section.